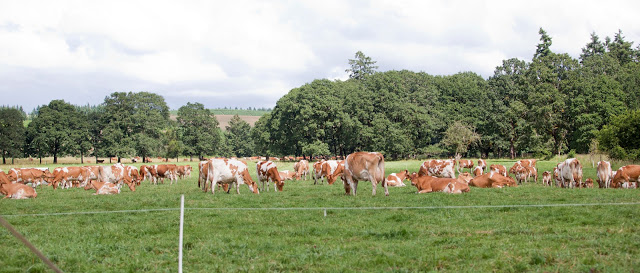 Abiqua Acres, Mann's Guernsey Dairy consists of nearly 100 acres and first came into the family in 1938 when my Great Grandpa moved his wife and daughter Delores here from the PeeDee area, near Dallas Oregon, so that she could attend High School. Delores married Paul Mann in 1942 and they purchased the farm from her father shortly after. A few cows were milked here all along and in 1952 the first registered Guernsey was purchased. There are still descendants of that original cow in our herd today.
In 1959 the first milking parlor was built and the dairy has sold Grade A milk ever since, currently through the Darigold Co-op. It has always been a family operation and in 1985 Paul and Delores' youngest son, Alan Mann and his wife Barbara purchased the farm. Alan and Barbara's daughter Darleen and her husband Ben joined as partners in the dairy in 2008. That completes the work force with micro-management help from Ben and Darleen's sons Mason and Nolan.
Since about 1993 the farm has been 100% registered Guernseys, one of the few all Guernsey herds in the nation. We currently milk about 95 cows, a very small dairy. Guernseys are known for their higher fat, higher protein milk which is also rich in beta carotene. Giving Guernsey's the nickname of Golden Guernsey, as their milk is a beautiful rich yellow color. An average cow in our herd produces about 6 gallons of milk per day. To do this she eats top quality alfalfa hay, cannery waste silage, a special grain mix and has access to lots of fresh water. Fresh, in season grass can replace much of the other feeds in her diet. And our cows go out to pasture as many months per the year as the weather allows. When not on pasture they rest in free stalls, which are individual "beds" padded with recycled tires and sawdust for bedding.
On January 20th 2017 we moved our herd to a brand new robotic facility on the farm. Our Ladies are now milked by two DeLaval VMS units in a free flow barn. A lot of time and research went into the planning of our new facility to make it as comfortable as possible for our Ladies and also easily functional for a our family run crew. The Ladies have transitioned wonderfully into their new home and we are very excited for the future. You can read more about the robots and the work that went into the building of our new barn under the tag robots.
Please feel free to ask any questions–we are very proud of our herd!!
You can also follow along with the Ladies of Abiqua Acres on Facebook for a more in depth look at our herd.
In 2012 we celebrated 60 years with registered Guernseys. You can read more in these posts celebrating  the history of our herd and farm.