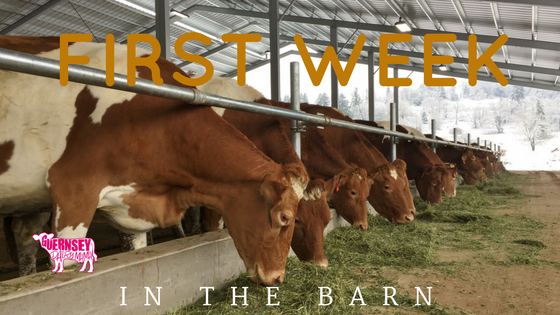 The Ladies have now spent their first week in the barn! Luckily the transition has gone really well and we are looking forward to starting milking this week. We have been moving them up to the new barn after morning milking and letting them stay all day until it's time to bring them back down for evening milking. This gives them enough hours to explore their new home, settle in and visit the robots for grain. This gets them used to being in the robot and associating it with something positive, grain! The way to any milking cow's heart is food!
The first day, January 10th, was rather exciting, which we expected. A bit more running, mooing and well just chaos then we ever like to see our cows doing. But no one broke fences on the way up to the new barn and no one got hurt. That was the two big worries for the first day. Luckily we had enough people on hand for the first move just to help keep an eye on everything.  Once everyone was finally in the barn, we were able to get them stopped. Everyone was very wide eyed but finally willing to settle down and at least inspect their new surroundings.
After everyone had settled down we moved a couple of groups into the fetch pens to be able to push them through the robots. That first day we were able to get about 20 through. They got to see what the stall was all about and learn that is where their grain will now come from. A bit of a push with a few of them, but most entered the robots pretty willingly. The first day we didn't get them moved up until about 1pm so they only had a couple hours, but it worked out well.
That night we got about 2″ of snow. Other regions of Oregon saw record snowfall, with 9″ in Portland, pretty much shutting it down. I'm sure the rest of the country was laughing at our inability to deal with that little of amount of snow, but we just don't see it here in the Northwest. So the Ladies had a snowy walk up to the barn for the second day. Luckily they didn't seem to mind at mind, sometimes it makes them rather playful. Once they got into the barn they settled down right away, it was so nice to see!
The second day we were able to get everyone we hadn't gotten the first day pushed through. By the end of the second day we even had several cows voluntarily entering the robot. Cows are curious by nature and that definitely helps them with dealing with change. It's funny to see which ones have taken to the robots. One of our oldest cows, Anna, has turned out to be a robot rockstar. She has been coming at least 6 times a day and seems to just be enjoying herself. And they say you can't teach old cows new tricks! 😉
Overall the first week in the barn has gone very well! A few more items on the robot install list and with the milk tank and we should be ready to start milking mid week. That's when the real fun starts! Keep your good thoughts headed our way for a smooth start up!