I've already showed you what our typical day looks like in "What is in a Dairy Farmer's Day", but how many literal steps go into completing those daily tasks? June is one of our busiest months, making hay takes up a ton of our "free time" in the middle of the day. Add in construction and working on our new barn and there haven't been many idle days. #MilkSteps this month was all about highlighting those all too important miles that dairy farmers walk every day to put a nutritious product on consumers tables. So let's take a look at what our June #MilkSteps in a day looked like!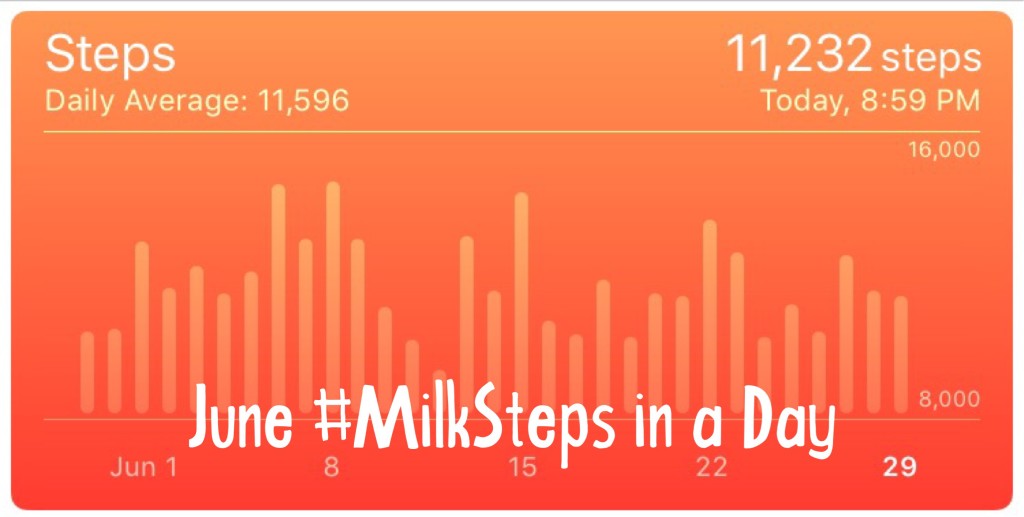 June 1st: My husband kicked off the celebration for June Dairy Month and #MilkSteps in great great speed by having his highest day, walking 28,725 steps! We carry our Iphones in our pockets and used the step counter in our health app to track for this month, I'm not sure how accurate they are down to each individual step, but they do a great job of showing when you have a busy day! Almost 29,000 steps is over 12 miles walked that day!
June 8th: I hit my highest day this month with 14,382 steps. While no where near my husbands high day were still busy finishing up hay and of course getting all the daily work done throughout the day. I'm sure more then a few of those steps can be counted running after busy little farmers!
It doesn't surprise me that both our highest days were in the beginning of June while we were making hay. This year was equally exciting as we were finishing our first fields of round bales and had to get them into the barn before the rain was due to come the next day. Making grass hay provides feed for our heifers and dry cows from the end of summer, when the grass runs out, through winter while they are shut in the barn, to spring when they can finally go back out to pasture. Making quality hay is an important #MilkSteps to keep our non milking cows full of nutritious feed.
June 13-15th: Saw our next highest days for both of us as we were busy in the new barn helping to pour the cow stalls. These custom beds in our free stall lay out will be where the cows have a choice of picking which stall to lay in while they are in the barn. It was a very important step in the cow comfort for our new facility.
June saw a lot of changes to the construction progress. The next time I can get some time with my keyboard, I am long over due on another update. The interior of the barn has really taken shape during June. The most exciting part was the robots arriving and being placed!
June 22nd: The last week of June saw more #Milksteps for all the regular daily chores as our crew was down one person, as my Dad traveled to Minnesota for the National Guernsey Convention. While all four of our regular work force isn't needed to complete the daily work, it's still felt when someone is absent.
That's a little insight into the extra June #MilkSteps in a day. The reality is that we literally put in miles every day taking care of all on our farm. I average 11,596 steps in a day, my husband averages 13,195 steps. That's an average of 12,396 steps which equals over 6 miles every day. The average American walks just over 5,000 steps a day, only half of the recommended 10,000 steps or 5 miles a day. For the whole month of June I only had one day under 10,000 steps when I had a meeting. The truth is  dairy farmers in a day are literally walking miles!
Those miles are ones I gladly take to make sure consumers can have the nutritious benefits of dairy in so many delicious forms!
So celebrate the end of the June Dairy Month with a giant bowl of ice cream. And as you enjoy think of all the hard working dairy farmers and the miles behind each bite. Makes it taste that much sweeter!
This post is part of a link up with Dairy Bloggers to showcase what a day in our life really looks like. Be sure to check out all the posts included below!